News
2017 Canadian Jamboree
posted July 17, 2017, 7:06 PM by Robert Bowers
July 8 - 15, 2017 - Camp Nedooae, Elderbank, NS
More details to follow.
---
Scouting Memorabilia Show and Badge Trading Day
posted June 25, 2017, 9:53 PM by Robert Bowers
June 24, 2017 - Camp Samac, Oshawa, ON
More details to follow..
---
Denis Charbonneau Memorial 40th Swap Meet & Auction
posted May 30, 2017, 11:19 PM by Robert Bowers
April 28 & 29, 2017 - Quality Suites, Pointe-Claire, QC
More details to follow..
---
Ottawa Scout Badge Trade-o-ree
posted March 12, 2017, 11:13 AM by Robert Bowers
March 10-11, 2017 - Scouts Canada National Headquarters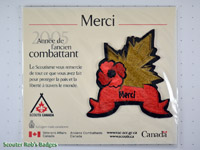 Had an opportunity to attend the Ottawa Scout Badge Trade-o-ree at the beginning of the March break. Drove up Friday afternoon and arrive just after the published start time. Found a necker from CJ'85 that I had never noticed before. Stayed at a local AirBnB for just $34 on Friday night. Went back Saturday morning and traded till 2:00pm. Marc Couturier, Ursala Page, Eric Hansen, Joe Vatour were there. Jack Walsh from Newcastle, ON arrived Saturday morning. Talked to the curators of the Scouting Museum and saw some interesting and rare silk badges. Tried to pick up a couple of auction items but was out bid in the last seconds. In total I picked up 66 badges, including CA MISC 19B to complete mu CA MISC Catalogue.
---
History of the Haliburton Scout Reserve Crests
updated Jul 18, 2017, 10:58 PM by Robert Bowers updated Mar 26, 2017, 2:35 PM by Robert Bowers posted Dec 14, 2016, 8:00 PM by Robert Bowers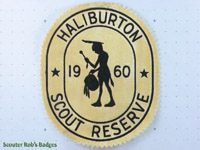 If you are interested in the history of the badges you might like to read the series of articles published in the HSR Alumni Thunderbird newsletter. The series of five articles trace the history and inspiration for several of the Haliburton Scout Reserve crests. Ken Wrigglesworth, author of four of the articles, suggested that I post them on my website.
Over the last two years I have been able to negotiate several trades for HSR, Woodland Trails and Oba-Sa-Teeka badges with Ken. Click the image to the left to view my HSR collection.
Below are links to each of articles. Hope you enjoy them.
---
Hamilton Badge Swap and Auction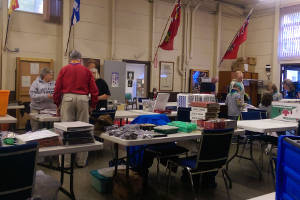 posted November 06, 2016, 10:55 AM by Robert Bowers
Saturday November 5, 2016 - Hamilton Scout House
Drove down to Hamilton first thing in the morning, to be there for the start at 9am. All the regular were there. Was able to pick up the last outstanding Hamilton Apple Day badge from Tom Evanoff. Also had an opportunity to pick up a few more badges from Gord Ryder and Ed Ermel. Ed Lattimore also had a few badges I was interested in. I also saw Ed Lattimore pick up an older Oba-Sa-Teeka badges from Jack Welsh that had been on my wants list for a very long time. Dooh! If I had only been there five minutes earlier!
There was also a nice set of older HSR crest in the auction. I was definitely interested and got a bid in but was very quickly shut out by the big spenders. Oh well! I will just have to keep looking.
After packing up I started to drive home and got a call so I decided to pull over and park. Afterwards, I went to start the car, it gave a half-hearted crank and died. Called CAA, got a tow to the local Canadian Tire and arrived five minutes before they closed. The mechanic was good enough to stay fifteen minutes late, to diagnose the problem, a dead starter, check inventory to confirm they had the replacement part in stock and there was an open time slot first thing in the morning. Fortunately, they were able to make the necessary repairs and get me back on the road. Unfortunately, I was stuck overnight in downtown Hamilton and had to stay in a cheap hotel. I did end up with about 55 new badges.
---
Quinte Swap and Auction
posted October 01, 2016, 10:32 PM by Robert Bowers
Saturday October 1, 2016 - Frankford Community Centre
The night before the swap, I met with Ed Ermel and Gord Ryder. It gave me a great opportunity to preview Ed's badges and pick out the ones I was interested in. I had been trying to do this at several swaps over the last year, but never seemed to find enough time to get through all of them.
During the swap I was able to pick up a few badges from Steve Kavanagh. I traded the rare 'Fundy East Area' badge to Paul Deryaw for a few badges I have been looking for. I also got some time to look through Gord Ryder's traders. In total, I picked up about 90 badges.
---
Google Strikes Again!
posted September 20, 2016, 2:25 AM by Robert Bowers
First, I should note that this site has been hosted on Google Drive for over a year. The service has been great and it was free! However, over the last couple of days, I noticed when I visited the live Scouter Rob's Badges website, Google would throw up a warning saying there was "suspicious activity" on the website and that I would have to complete a CAPTCHA phrase to prove that I wasn't a robot and allow me access to the site. If you were also having these problems, I apologize. I didn't understand why this was happening and what had changed.
I check the code and didn't see any additional malicious code. I wondered if the new image gallery was causing problems or the recently added Next / Previous links through out the website. I also wonder if someone was leeching off the site and triggering "suspicious activity" alarms at Google HQ. After trying several different attempts to resolve the issue, I decided to search the internet and see if anyone else was having similar problems. After attempting several different keyword searches and chasing down several different possibilities I found it. As of August 31, Google has "depricated" the hosting service on Google Drive. In short, they were discontinuing the service and things would stop working like they used to. It was actually quite amazing that the site worked at all.
So I was forced to find a new home for Scouter Rob's Badges. After checking out lots of different hosting services, I settled on NameCheap.com. Their service looked reliable, they offered the features I wanted (i.e. no advertising) and as their name states they are cheap. It cost $9.88 USD for the first year and a $38.88 USD renewal fee. That is far lower than any of the other shared hosting services I looked at.
So I worked through the evening, signed up for the hosting service, updated the name servers, edited the code in the database that generates the web pages and transferred the files to the new host. Visually and functionally there should be no difference, but I think it runs a little faster!
---
Major Collection Housekeeping and Database Update
posted September 14, 2016, 5:30 PM by Robert Bowers
Over the last couple of weeks, I have been doing some major housekeeping on my collection. I purchased a lot of 169 badges from Ralph Williams that had to be entered into the database and filed in my binders. There were also a few piles of badges, that have been sitting around for a while, needing to be filed. It was a chore but now it is done.
I have also started printing labels for each badge that is in a binder. Each label lists the name or CBC code, the collection number, the badge description number and the date acquired. I print the labels out of my database and run them through a die cutter to size and punch a hole through them so you can still see the back once the are placed in the pockets of the binder sleeves. Once I had this worked out I printed labels for every badge I have in binders, which includes both my collection and traders. That is 34 binders in total! I also sourced some plastic sleeves that both the label and badge can fit into. I have decided to use these sleeves on all of the "silk" badges to prevent damage to the exposed threads on the back. While I was doing this I also reordered the badges so they follow the CBC Catalogue and my database exactly. This allows me to generate a report from the database and quickly compare it to a binder to confirm what I have and what is missing.
I also made a few upgrades to the database. I updated the database catalogue to the latest edition of the Canadian Badgers Club Varieties Catalogue Edition 8.2 which now included the rarity of subvarieties. I developed a few reports that helps me identify errors and confirm inventory. I also created a report that duplicates the CBC Varieties Catalog, but it highlights every variety I already have in my collection. This should help me spot the badges not in my collection, when I am at badge swaps.
I also made a few upgrades to the website. Clicking on an image shows a larger version of the image which now includes the name or CBC code and controls to move to the previous or next image as well as put it into slide show mode. I have also include links at the top and bottom of each page which allows you to move to previous or next page, but more importantly it preserves the filter setting. As an example, you can set the filter to Wants, then jump from page to page to see only the badges I want. I also added a few subcatalogues to the index that had been missing.
More importantly, I fixed the Contact Me form. Unfortunately, some messages that have been sent have never been received. Google Forms doesn't allow messages sent to be easily emailed to me. However, I research the problem on the internet and came up with a simple script that send the email straight to me. If you have sent a message o me in the past and I did repond, please send a message again and hopefully I will receive it this time.
Overall, I think the collection is looking rather respectable and I feel like am ready for the upcoming badge swapping season.
---
1st Uxbridge Jamboree on the Trail Badge Swap
posted May 15, 2016, 8:51 PM by Robert Bowers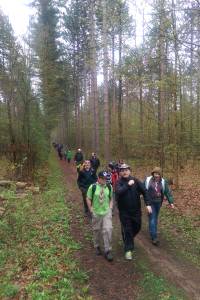 May 14, 2016 - Elgin Park, Uxbridge, ON
Over the past few years, the 1st Uxbridge Scout Group has hosted a regional Jamboree on the Trail hike for groups from Owasco and surrounding areas. This year, in total, almost 150 people registered from Beavers, Cubs, Scouts, Venturers and Rovers. The morning starts at 7:30 with the oldest sections and a few leaders starting the hike. By the end of the hike they will have travelled close to 20 km. As the day progresses, younger sections join the group; Scouts, then Cubs, then Beavers. Eventually we all end up at Elgin Park for a well deserved BBQ lunch. Each participant also received the 2016 JOTT badge.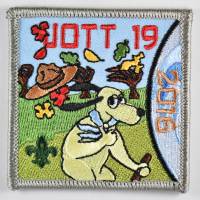 This year I also invited some Badgers to come to Elgin Park and set up some display for the youth to look at do some trading, after they finished their lunch. The goal was to expose youth to the etiquette and fun of badge collecting and trading. I would like to thank both Ed Ermel and Steve Kavanah of the Canadian Badgers Club for coming out. George Lagueux, who I believe used to be a member also brought his badge collection. Unfortunately, the afternoon was wet and windy with the temperature approaching the single digits.
Thanks again to the Badgers who came out and youth who stopped by to find out more about badge trading.
---
39th Montreal Swap Meet
posted April 25, 2016, 7:25 AM by Robert Bowers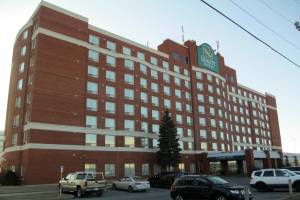 Denis Charbonneau Memorial Swap Meet & Auction
April 22, 23 & 24, 2016 - Quality Suites, Pointe-Claire, QC

Again this year, I found myself heading to Montreal just for the Friday evening, because I had Scoutrees the next morning starting at 7:30am. This year I came with a plan and stayed focused on the task of doing some power trading.

One notable trade this time; Larry Fleet was finally able to put a trade together for my CJ'13 1st Uxbridge back patch that he has been trying to get for the last two years. Here are the Badgers I managed to get some trading done with.
Doug Rudolph
Ursala Page
Ed Ermel
Linda Aug
Larry Fleet
John Witham
I managed to pick up 107 badges this time! Thanks to all I traded with.
---
Ottawa Scout Badge Trade-O-Ree
posted March 20, 2016, 11:37 AM by Robert Bowers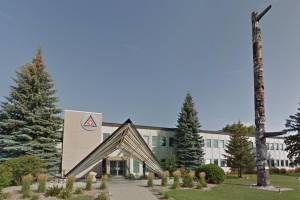 Friday March 18, 2016 - Scouts Canada National Headquarters
On Friday morning I drove to Ottawa with my wife. We visited with friends during the late afternoon and I headed off to the Trade-O-Ree that evening. I took the opportunity to stop into the Scout Shop see what badges they had available. Gord had some camp badges for me, but unfortunately I already had them in my collection. I was able to work out a trade with Chris for an 1990 Haliburton Scout Reserve badge. Continued going through Ed's traders and picked up a bunch of needed regions and districts. I also picked up a few badges from my non-listed wants from Tom. Couldn't stick around for Saturday's trading and headed back home late Friday night, so I could take the Troop the the Toronto Sportsman Show the next day. In total I added another 71 badges to my collection. Thanks Eric for hosting!
Chris Wootton
Ed Ermel
Steve Kavanagh
Tom Evanoff
I was able to trade for 80 badges. (I also picked up a bunch from the discount barrel in the Scout Shop.)
I got to say hello to these Badgers, but unfortunately, I did not have enough time to complete any trades with them:
Gord Ryder
Joe Vautour
Eric Hansen
Larry Fleet
Ursala Page
---
Streetsville Swap
posted February 28, 2016, 8:29 PM by Robert Bowers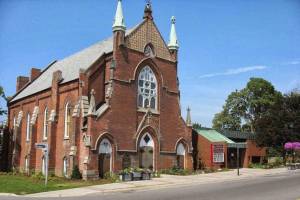 Saturday, February 27, 2016 - Streetsville United Church
This was a small event that conflicted with a lot of other local events like Kub Kars. In the end everyone was packing up and heading home by 12:30! Thanks Hall for organizing. Here are some of the other Badgers I met at the event.
Ed Ermel
Gord Ryder
Hall Spaford
I did however manage to pick up 35 badges.
---
London/Tri-shores Badge Swap Meet & Auction
posted February 7, 2016, 6:10 PM by Robert Bowers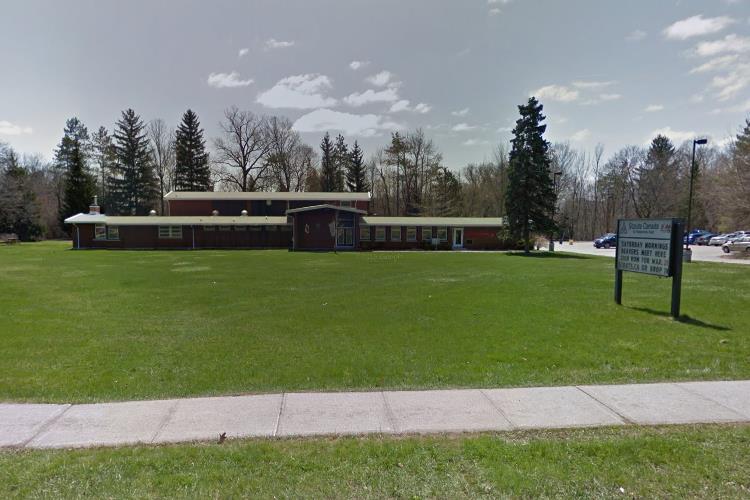 Saturday February 6, 2016 - Spencer Lodge
Thanks Glenn and Dave Here are some of the other Badgers I met at the event.
Glenn Margison
Dave Robak
Ed Ermel
Gord Ryder
Greg Fox
I picked up 84 badges from trades and a few outdated Apple Day badges from the Scout Shop.
---
Hamilton Area Swap Meet and Auction
posted November 8, 2015, 7:51 PM by Robert Bowers
Saturday November 7, 2015 - Hamilton Scout House
Thanks for the effort Tom! Here are some of the other Badgers I met at the event.
Gord Ryder
Ed Ermel
Tom Evanoff
Ed Lattimore
Doug Rudolph
It was a good event as always and I was able to acquire 122 badges.
---
Quinte Swap Meet (now in Frankford)
posted October 4, 2015, 10:39 AM by Robert Bowers
Saturday October 3, 2015 - Frankford Community Centre
Thanks for the effort Everett! Here are some of the other Badgers I met at the event.
Gord Ryder
Ed Ermel
Everett Dalmas
Paul Deryaw
Donald Marchand
Steve Kavanagh
I was able to pick up 157 badges here, of which 117 came from Donald Marchand. Thanks!
---
Database Reorganized to Accommodate Districts and Regions
posted August 24, 2015, 7:22 PM by Robert Bowers
I recently acquired a collection of 625 region and district badges. This has forced me to rethink my filing system for provincial, council, area, region and district badges, and I have decided to implement the Canadian Badgers Club coding system (as much as possible). This has required me to restructure some of my database, add additional fields and develop new code to generate the web pages. Then there was the task of just entering the 625 new badges. So after three weeks of working in it in my spare time I think it is working fairly well. Visitors to the site will now notice the navigation index on the left side now has a section for CBC Listed Badges. Under each province you will find sections for provincial, council, region/district/area, jamboree and miscellaneous badges. If you notice any errors, please email to help me fix it.
---
World Jamboree 2015 - Japan
The Canadian Contingent badges for WJ'15 surfaced on eBay the other day. Here is the description of the various badges from Scouts Canada.
Contingent Crest - This is the general contingent crest that all participants will receive (see below left) and can order more of. If they are a member of the International Service Team (below centre) or Contingent Management Team (not shown), this crest will indicate so and have a different colour border, otherwise it will not. Each participant received 10 Contingent badges and could order as many more as they wanted at a cost of $3.25 + tax. Scouts Canada has said contingent badges will NOT be available for purchase at the jamboree.
Contingent Collector Set - This consists of a three part surround for the contingent crest (see below centre), it commemorates the jamboree in a unique way and includes a section related to the Hong Kong pre-camp trip, as well as a section with the jamboree logo and one with the Canadian Contingent logo displayed prominently. It is expected that these will be very collectable at the jamboree and will be of great interest to badge collectors. These will only be available by pre-order at a cost of $15.00 + tax per set, so they will likely be quite rare at the jamboree, adding to their collectability. They will fit around a contingent crest, but the contingent crest will not be included. This will be a large set, measuring approximately 8.5" High by 10.5" wide. I have heard extras of the sets have been shipped to Japan for sale there.
Join in Jamboree Crest - Similar to the Contingent Crest, but with a different colour background and border (see below right), will be for sale in the Scouts Canada retail stores as well as a limited number for sale at the Jamboree. Participants were allowed to order these in advance at a cost of $3.25 + tax. This allows those that are not able to join the contingent at the jamboree to be connected with those that can in a special way. I have heard there are only 250 of these crest and they will only be available online or at the Ottawa Scout Shop at a cost of $3.25 + tax + shipping.
WJ'15 Canada Participant

WJ'15 Canada International Service Team

WJ'15 Canada Join In Jamboree

WJ'15 Canada Collector Set

From the action on eBay last Wednesday evening, there is definite interest in these badges. The auctions started off with a Contingent crest and Join in Jamboree crest selling for $15.50. Then an International Service Team crest sold for $24.50. That was followed by a Contingent Collector Set with a Join In Jamboree crest for $71.00. The last auction of the night had a Contingent Collector Set with an International Service Team crest selling for a whopping $110.50! Prepare to dig deep if you want to add a set to your collection!
---
Edmonton: Women's World Cup and Badging
posted June 8, 2015, 6:12 PM by Robert Bowers
Work had me travelling to Edmonton, AB for a couple of days last week. Before I left I sent out a few emails and made plans to do some badging. During my stay I was able to check out the Northern Lights Council Scout Shop and top up my trading stock of current area badges as well as pick up a few past issues.
While there I was able to meet with John Witham, who I had met in Montreal back in April. John is currently working in the basement trying to organize the vast collection of memorabilia. John gave me a personal tour. It will be great when they get everything organized to the point where the public could access what they have.
That evening I visited Denny May for dinner. We talked about Scouts, his many adventures in Alberta and the Northwest Territories and he showed me some of his vast collection. Denny was also extremely generous and gave me some badges to add to my collection.
I then met up with John Witham again, this time to discuss some serious badge trading. John had found a number of my wants and brought them with him to Edmonton. I had brought my badges and he found a few that he was interested in. Ultimately, John had far more badges for me than I had for him.
On Friday night I was hoping to meet up with Shawn Donald. He was travelling from Lloydminster to Camp Woods near Sylvan Lake and would be going right through Edmonton. However some important camp gear was left behind, forcing him to go back to Lloydminster and putting him way behind schedule. We will have to get together during some future travels.
On Saturday afternoon I went to the 2015 FIFA Women's World Cup opening ceremony and match between Canada and China. Christine Sinclair scored the only goal on a penalty kick during extra time, winning it for Canada! Go Canada!
On Sunday, before I flew home I was able to meet with Anthony Palmer (www.badgerant.com). We talked about Scouting, the Canadian Badgers Club, looked at his collection (really nice by the way) and enjoyed a light lunch. With time running out we went back to his office, talked about badging some more and swapped several badges.
I ended up coming home with a bag full of new badges, many of which filled holes in my collection. Thank you to Denny, John and Anthony for making the trip so worthwhile.
---
Major Website and Database Update Completed
posted May 31, 2015, 2:35 PM by Robert Bowers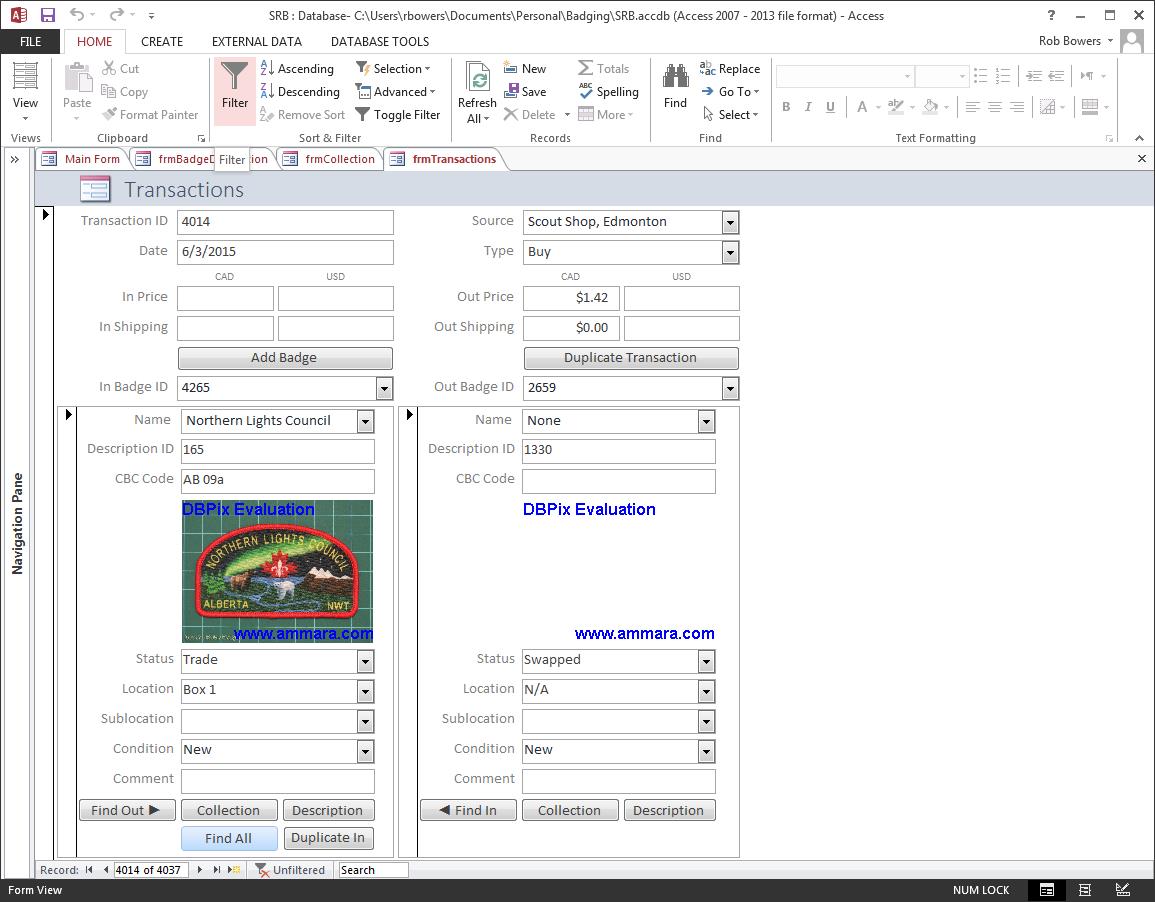 Over the last couple of month, it has become more and more time consuming to keep the website updated. I had programmed my Access database to automatically generate the HTML code for the website, but I would then have to cut and paste the the raw code into several page templates, then cut and paste the edit pages into the web pages in the Google Site. This process was taking form six to eight hours to complete.
I was also starting to get dissatisfied with the limitations inherent to Google Site. Even though I had developed a work around to the 10 MB limit, the process was tedious. The navigation system was also starting to present its limitations.
So I started looking into hosting a website using Google Drive. It took a little bit of research, but I was able to develop a viable solution. At the same time, I was educating myself to write more comprehensive Visual Basic code for Access. The program I developed creates all of the HTML web pages without requiring me to do any modifications. The code then saves the files to the Google Drive folder on my computer and uploads to my Google Drive account on the internet. Now the process to generate all of the web pages and upload them to the internet takes less than a minute.
I also took the opportunity to simplify the web address. Using a domain I already own, I was able to set up a subdomain that forwards to the Google Drive site. So the new address for Scouter Rob's Badges website is srb.gud.ca or ScouterRobsBadges.gud.ca. If you have a chance, send me an email and let me know what you think.
---
38th Montreal Swap Meet
posted Apr 26, 2015, 9:29 PM by Robert Bowers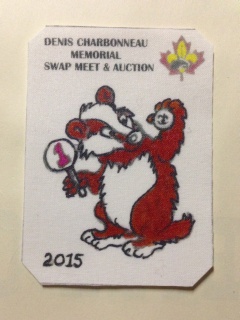 Denis Charbonneau Memorial Swap Meet & Auction
April 24 & 25, 2015 - Quality Suites, Pointe-Claire, QC
Got up Friday morning desperate to go to Montreal, but I had Scoutrees the next morning. However I decided to throw reason out the door and do the 5+ hour drive. I arrived after most people had set up. Found my self a table to set up on and start trading. At 9 pm it was time to pack up and head home. Got home just before 3 am. Then up at 7 am for Scoutrees! I was able to pick up 63 badges
I was able to put faces to several of the Badgers I had been trading with over the internet. Badgers I traded with or met:
Everett Dalmas
Robert Schmidt
Doug Rudolph
Chris Wooton
Frank Smith
Larry Fleet
Gord Ryder
John Witham
Mike Assef
Don Conners
John Butters
Ursala Page
Ralph Williams
---
Ottawa Scout Badge Trade-O-Ree
posted Mar 15, 2015, 4:52 PM by Robert Bowers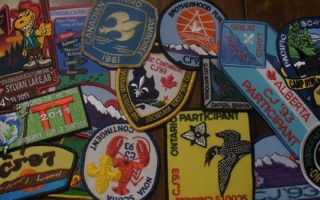 March 13 & 14, 2015 - Scouts Canada National Headquarters
Heard about the swap from a single mention on the Badger Forums. Tracked down the organizer and got an invite. The organizers set up an event Facebook page.
Left work a little early and headed up to Ottawa. Got there just a little after things started and set up my traders. Had a good evening, met a few new people and then it was time to pack up for the evening. Found a hotel, crashed for the evening and was back first thing Saturday morning ready to go. Took some time to visit the Scout Shop to buy a few badges. Traded some more badges and then it was time to hit the road for the 4+ hour drive home. Thanks to Eric Hansen for sending me an invitation. Picked up 69 badges here.
Badgers I traded with or met:
Joe Vautour
Marc Couturier
Eric Hansen
Ursala Page
---
Hamilton Area Swap Meet and Auction
posted Nov 9, 2014, 10:15 AM by Robert Bowers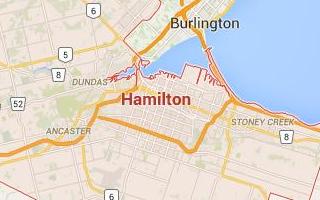 Saturday November 8, 2014 - Hamilton Area Scout House
Headed of of early again but still seemed to arrive after the usual suspects had already setup camp. Stuck around for the auction. Placed some bids on the table auction items, but didn't win. Almost bid on a few of the live auction items but was quickly outclassed by the more seasoned Badgers. Picked up 151 badges here, mostly from Ed.
Badgers I met and traded with:
Ed Lattimore
Tom Evanoff
Gord Ryder
Steve Clegg
Dave Robak
Ed Ermel
Bob Lewis
Bill Nickle
Steve Kavanagh
---
Wooler Swap Meet
posted Oct 5, 2014, 9:12 AM by Robert Bowers
October 4, 2015 - Wooler Scout Hall
Got up early, packed up my badges and headed off to Wooler on a cold wet fall morning. After about a two hour drive I arrived. I set out my badges for trade and had a very enjoyable day talking and trading. I stuck around for the auction, but most of the prices were way above my limit. Picked up 39 badges here.
I had the pleasure to meet some Badgers I had never met before and other I had met earlier in the year.
Chris Wooton
Paul Deryaw
Gary Mann
Bill Nickle
Everett Dalmas
John Pickering
Gord Ryder
---
Filters Added to Badge Pages
posted Mar 17, 2014, 7:02 PM by Robert Bowers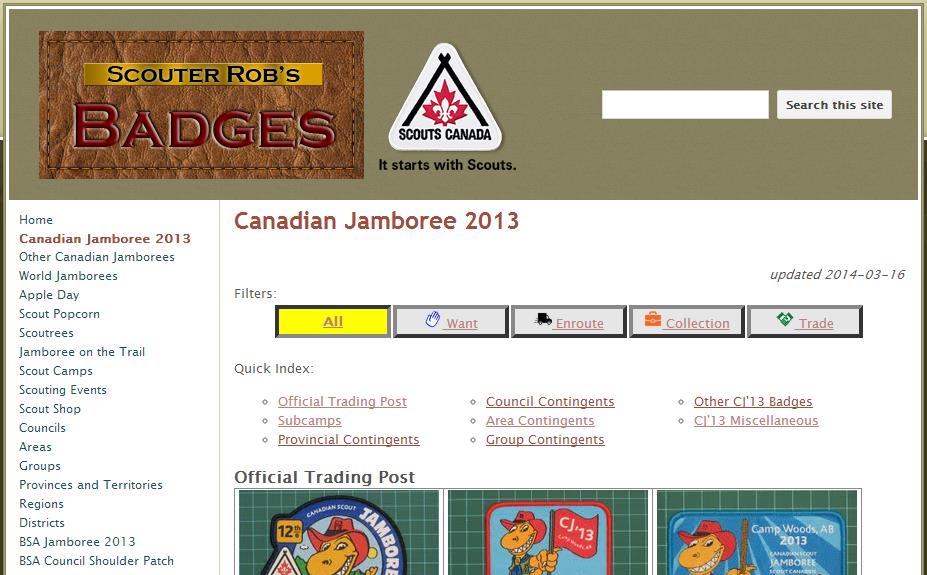 I have just completed an major upgrade to my database functionality and the HTML code it generates. You may have noticed on the top of each page there are buttons that will filter the badges on the page by their status i.e. Want, Enroute, Collection or Trade. Click on one of those buttons and it filters out the badges that don't meet that criteria. Hopefully, it will allow you to focus in on the information you are looking for. Try it out.
---
New Collection Management System
posted Feb 21, 2014, 2:18 PM by Robert Bowers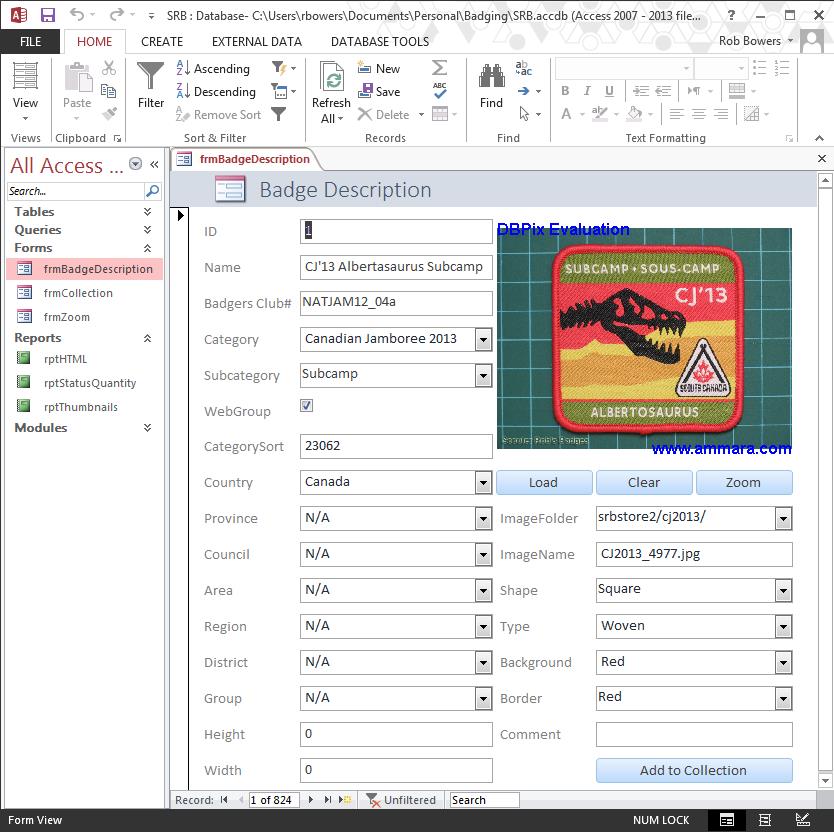 Well I have completed a whole collection management system using Access 2013. Through the process I also redefined the four possible status' of badges in the collection. Now the are either defined as Wanted, Enroute, Collection or Trade.
The system has two major components. The first is a database that include details of each unique badge. That includes information like name, category, subcategory, council , area and an image. The second is a record of each individual badge which includes details like its status, what I traded for it, who I got it from, when I acquired it and most importantly where I have it stored. The majority of information is contained in referenced table so data entry is simplified but the system is easily expandable to adapt to new information. I have also included details that allow me to sort the details in many different ways.
The system can generate several different reports including;
Thumbnail index - includes a small image of every badge in my collection
Inventory - provides a small image of each badge and the quantity of each for each different status level.
HTML code - based on what is in the collection it automatically generates the HTML code used in the site. I still have to do a small amount of editing, but it definitely simplifies the process.
As I work with the system more and come up with new ways to handle collection management tasks I am sure I will be updating it.
---
Collection Updates
posted Nov 20, 2013, 9:15 AM by Robert Bowers
Over the last few weeks I have been working at improving my collection. As I have been developing this site, I have become more and more unhappy with the quality of the images I was posting and the way I am physically archiving the badges. So I resolved to correct this situation. During the process I figured I would also include the badges I had collected recently.
My first step was to improve my physical archiving/filing system. I did a lot of hunting around and eventually decided to use protective sleeves in 3-ring binders. I eventually ended up going with this company because they had a wide range of different sizes that would work. https://www.bcwsupplies.com/type/pages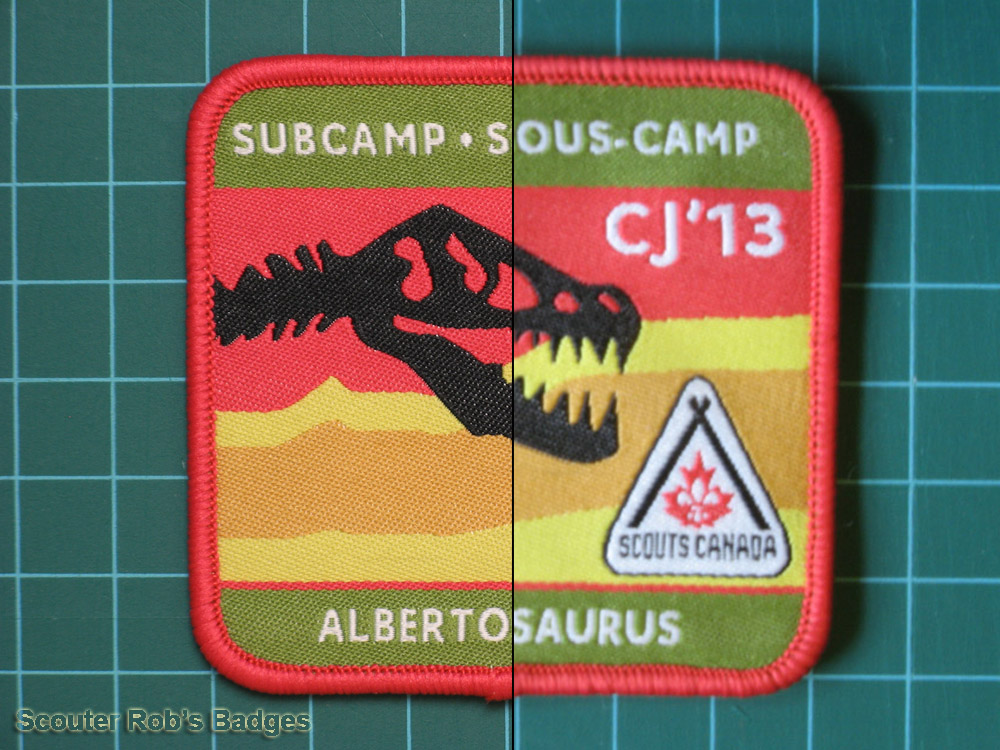 My next step was to improve the quality of the images. I played with the exposure, f-stop, lighting, focus...almost everything. Then figuring out the best post processing using Photoshop. I eventually decided what would provide consistent, sharp, bright images. Click on the image to see the difference.
Taking new photos of my entire collection (over 600 badges) was no easy task. I also had to learn how to batch process images with Photoshop.
Now I was in a position to start posting new improved images.As I started uploading the images I quickly hit the 100 MB limit for Google Sites. So I did a little reorganizing of the online files, optimized of the HTML code and came up with a workable solution. Currently there are over 600 images which take about 175 MB.
During the process it also became apparent that I would have to create more categories to sort the badges into.
Ultimately, there has been a lot of behind the scenes work done, but I feel the improvement was well worth the effort. There are still a few items left on my punch list, but for the most part the update is complete. If you have any comments or find some areas that still needs some more work, please contact me.
---
Badge Trading at CJ'13
posted Aug 13, 2013, 10:23 AM by Robert Bowers [ updated Aug 18, 2013, 8:30 AM ]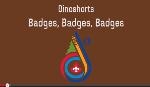 There was lots of aggressive badge trading going on at the X-Centre almost every night during CJ. Check out the video about badge trading at CJ'13 produced by Scouts Canada.
---
Canadian Scout Badges on the Internet
posted Aug 3, 2013, 8:55 PM by Robert Bowers [ updated Aug 4, 2013, 1:04 AM ]
During my search to figure out what resources are available to badge traders interested in Canadian Scouting badges, I came across a few sites that were useful that I thought I could share.
If you find other useful links, send them to me using my Contact Me form and I can include them.
---
Scouter Rob's Badges is Born
posted Aug 3, 2013, 8:44 PM by Robert Bowers [ updated Aug 4, 2013, 12:11 AM ]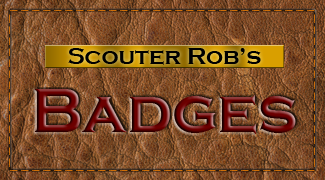 After looking at the Badgers Club Trading Forum, I saw some CJ'13 badges being offered that I wanted to trade for. But how could I let the other badge traders know what I had to offer.
Ah Ha! A badge website to chronicle my collection. So began my task of building this website. I am pretty happy with the way it has turned out, but if you have any suggestions on how I could improve it, please Contact Me.
---
Canadian Badgers Club Online!
posted Aug 3, 2013, 8:28 PM by Robert Bowers [ updated Aug 3, 2013, 8:32 PM ]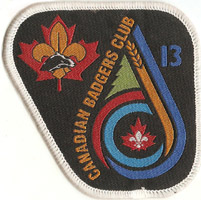 Found the Canadian Badgers Club online at http://canadianbadgersclub.com. They have a virtual badge collection and forum, but both are username/password protected.
Canadian Badgers Club Virtual Badge Collection
To get registered for the virtual badge collection go to the webpage above, click on the link for the virtual badge collection and click the "Register" button at the top. Fill in the necessary information and Badger Ant will get back to you saying you now have access.
Canadian Badger's Club Trading Forums
To gain access to post on the trading forums, send an e-mail to the Club webmaster with your name, a user name & password, and why you would like to join the forums.
---
Back from CJ'13
posted Aug 3, 2013, 8:01 PM by Robert Bowers [ updated Aug 3, 2013, 8:06 PM ]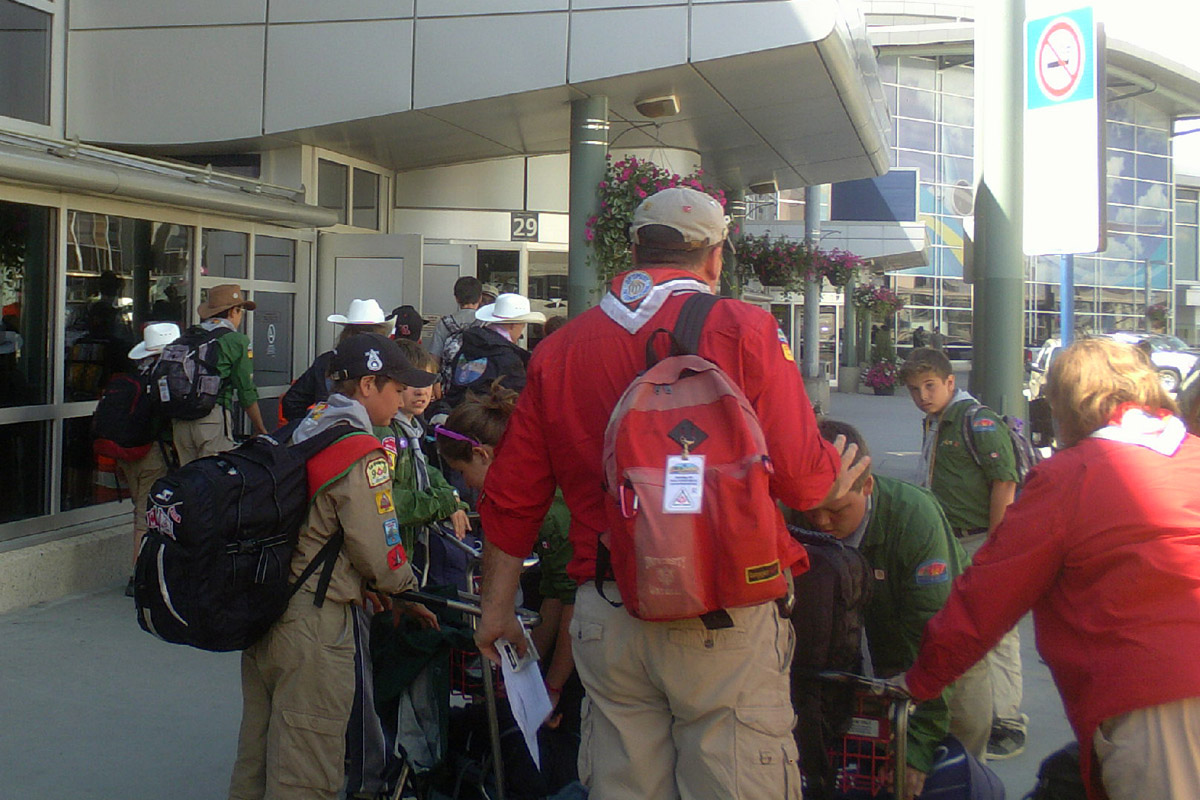 Leaving Edmonton. Well 1st Uxbridge made it back from CJ'13 in good shape, if not a little tired. Every one who went has wonderful stories, great memories and lots of new BADGES!!!
Found out more about the Canadian Badgers Club. Got to check out there website when I get home.